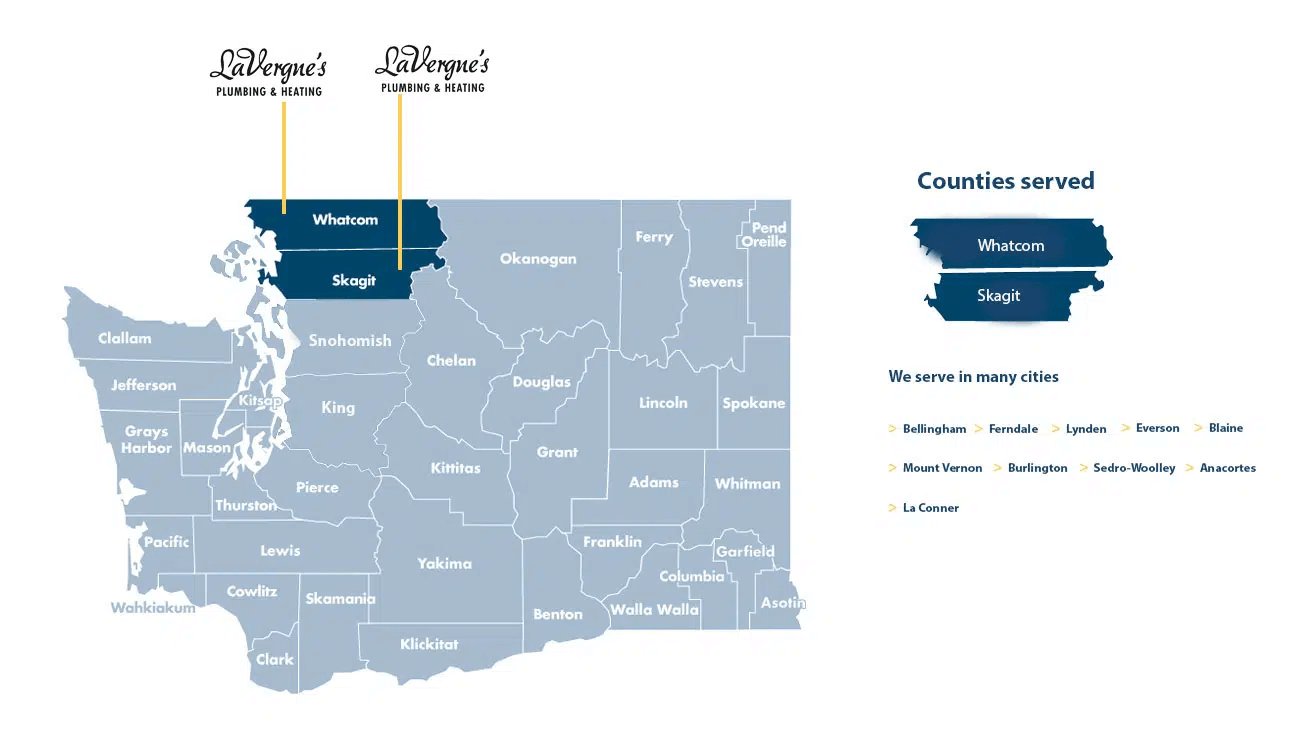 What Your Neighbors Say About Us
Click on your city to see what your friends and neighbors are saying about their recent experience with our service
Large service area – we live where you live
In order to provide you the best service, we are available throughout Skagit and Whatcom Counties. We service many cities including, Bellingham, Ferndale, Lynden, Everson, Blaine, Mount Vernon, Burlington, Sedro-Woolley, Anacortes and La Conner.
Around the clock care
No matter when you require service, you don't have to wait until our doors open to get it. We offer 24-hour-7 emergency service so you get a fast response to ensure your systems are running efficiently. That is because our techs live in your neighborhood.
Quality workmanship
From water heater repairs to new plumbing fixtures, you can choose a wide range of services available at affordable prices. Take advantage of our $88 specials that provide you with exceptional service when you need it most.
---
Customer Testimonials
"Absolute hands down best service EVER!!!!! Completely professional, superb quality service, went above and beyond. Will definitely be calling back for ALL plumbing needs. I can't say enough good things about Tim and this company. Five stars isn't enough! We are completely blown away by the quick response we received!"
Raychel J.
---
"Excellent work done the same day. Very satisfied. The workers were professional and friendly. New water heater and venting looks fantastic."
Neal D.
---
"I for one do not look forward to calling for professional help having had my share of rip offs, disappointments and scams. So it was with more than a bit of trepidation that I finally forced myself to deal with a drainage problem I have with rain water backing up and flooding my garage. After going online and searching around I decided I would go with LaVergne Plumbing. What a pleasant surprise. I made an appointment for them to come and look at my problem and was kept informed of when to expect the fellow to arrive when there was a hold up on another job. None of this letting you sit around waiting, it was like they realized my time was important too. Tim was courteous, informed and willing to talk over different approaches to solving my problem and gave me advice on what I could do myself before he came back to keep cost down. He told me of their special for new customers that I didn't know about that saved me a good amount right there. Two days later he arrived right on time, ran his rooter through the line and while it was doing its thing I was able to track it under the lawn to mark out where it ran, nowhere near where I thought it was. He then ran a camera through and made a video that we watched as it went through the line and I even got a copy emailed to me later. Neither of us where really happy with the flow after all this but between us came up with a plan I could pursue on my own which I did the next day which allowed me to quickly find and remove a stoppage that was out of reach of the previous attempts, something like a 100 feet away. Now I have a free running drain and peace of mind and pleasant memories of my experience with LaVergne Plumbing. I wouldn't hesitate to call them in the future and recommend them to anyone."
James H.
---
"I called LaVergne's Plumbing & Heating yesterday morning (8/12) because I had a very bad Clogged Garbage Disposal. First, I was very impressed with Melissa who told me she would get to work on it right away and she did. By 1pm a young man, Tim, came over to handle my disaster. Tim was friendly, very professional, highly skilled, careful and worked all day and I mean, all day to get that garbage disposal to work and he did!! It was a complicated job as he found out he had to break into the wall in order to solve the issue. He spent all afternoon, and had to bring in a hose etc...and did all that work with a smile on his face. At the end of the day, he had the garbage disposal running like new!! He cleaned up the entire area and made sure there was no dirt or water anywhere. I highly recommend LaVergne's PLumbing & Heating to anyone who is looking for professionalism, dedication and especially getting a job well done! What a great job you did , Tim!! Thank you!"
Gloria D.
---
"Thank you LaVergne's Plumbing. Your technician Jeremy was a lifesaver. He was so helpful with what he thought might be the problem and gave us 4 repair options. Fortunately, the sewer line just needed a good cleaning. I totally recommended this company. I was able to talk to the dispatch immediately and within an hour help was here. Thank you so much!!!!!"
Kim S.
---
"Seriously a great experience with this company! Tim was awesome in every way! He explained our situation and cost in full and was so kind and friendly!! He did a really good job. We're comfortable with the outcome!!! Thank you Tim!!!!"
Jackie O.